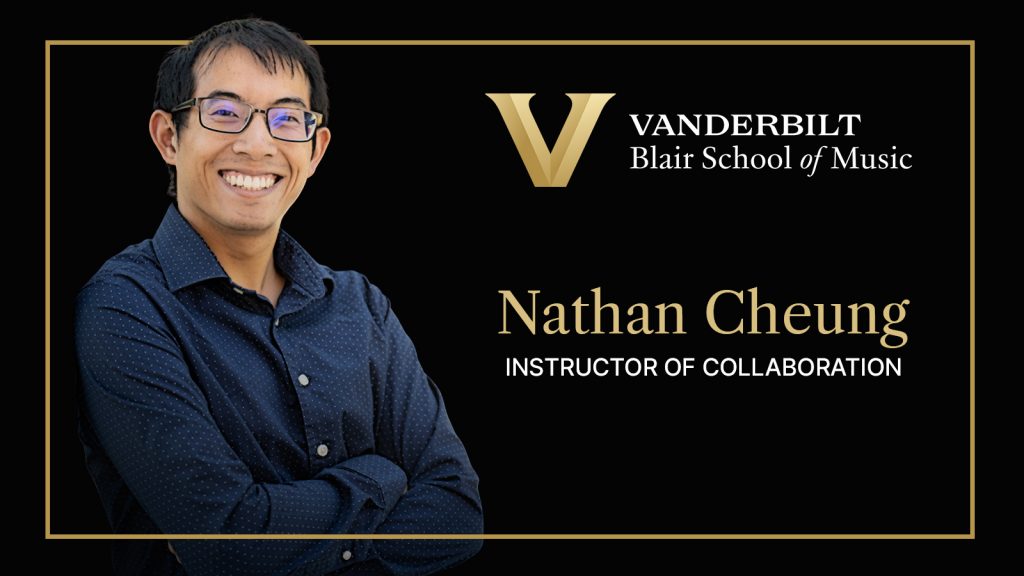 Nathan Cheung will join the Blair School of Music as an instructor of collaboration in fall 2023. A native of the San Francisco Bay area, Cheung is known for his versatility as a soloist, collaborator, composer, and improviser. These roles are fueled by a life-long passion to understand the power of great music and tap into its potential to resonate with people from all walks of life. He maintains a deep interest in music outside of the classical canon and meaningful ways in which different styles of music can inform each other.
He received his doctorate and two master's degrees from the Eastman School of Music, as well as a Bachelor of Arts from Stanford University. His primary teachers were Natalya Antonova, Jean Barr, Nelita True, and Thomas Schultz. Cheung comes to Vanderbilt following a two-year period as a visiting assistant professor at Indiana University Jacobs School of Music.
Cheung was awarded the 1st prize in the 2019 Los Angeles International Piano Competition and won top honors in the Wideman International Piano Competition, Seattle International Piano Competition, Heida Hermanns International Piano Competition, and George Gershwin International Music Competition, and the Lewisville Lake Symphony International Competition. He is also a winner of the Aspen Concerto Competition, American Prize concerto division, Kaunas Piano Fest Competition (Lithuania), Music Teachers' Association of California Solo Competition, and concerto competitions at both the Eastman School of Music and Stanford University.
His love of making music with others spurs his robust activity as a collaborative pianist. Cheung's achievements include collaborative piano fellowships in Music Academy of the West, SongFest, and the Aspen Music Festival. He frequently appears with professional artists such as Concert Artist Guild winner, Adam W. Sadberry, and faculty from Indiana University and Eastman. Every summer, he basks in awe of young talent during his work as a staff pianist in the Bowdoin International Music Festival. In addition, he is adept at navigating through opera run-throughs, new music ensembles, jazz combos, Baroque ensembles, world music ensembles, church bands, rock bands, and tango bands. This wealth of experience has allowed him to transgress boundaries of genre, instrumentation, and culture.
As a composer, Cheung has had his miniatures featured in the United States Open Music Competition and his String Quartet premiered by the St. Lawrence String Quartet. He is also a rare recipient of Eastman's Advanced Diploma in the Art of Improvisation and gladly welcomes all requests for Happy Birthday in the key and style of their choice for style imitation study.
Cheung is a member of Happy Dog Duo with his longtime piano partner, Eric Tran. Together, they won the 2017 Ellis Duo Piano Competition, the 2018 inaugural MTNA Stecher-Horowitz Two Piano Competition, and the Ohio International Piano Duet and Duo Competition. They are known for their innovative programming, fully memorized performances, and unabashed humor, bringing a fresh perspective to the four-hands repertoire.