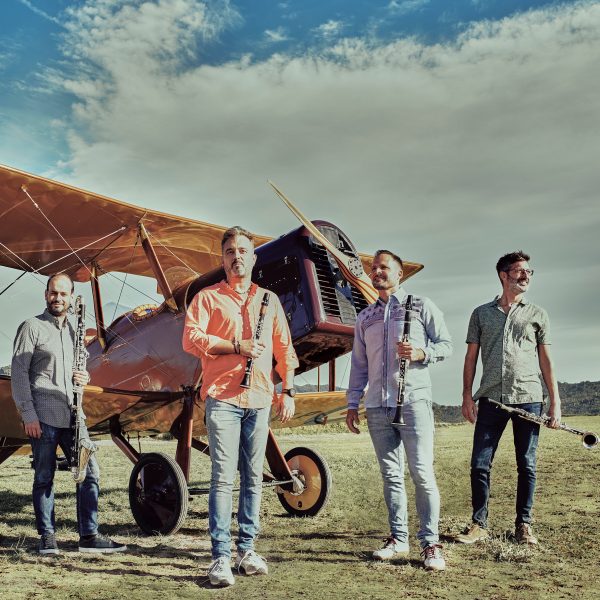 Renowned for their meticulous chamber work and energetic staging, the Barcelona Clarinet Players are on campus for a weeklong residency that will include two performances: Wednesday, October 11 in Turner Recital Hall and Friday, October 13 in Ingram Hall, as the quartet will be special guests for the Vanderbilt Wind Symphony's concert event, entitled Carnaval.
"The Barcelona Clarinet Players are world renowned, and I was thrilled to collaborate with them on two tracks off their latest album," said Thomas Verrier, conductor of the Wind Symphony. "We recorded in Columbia during the summer of 2022. I have known Manuel Martinez, one of the members of the quartet, for nearly 20 years. He was part of the first group of visiting exchange students (from Valencia) that the wind symphony brought to Blair in 2004."
In their more than ten years of experience, the Barcelona Clarinet Players have commissioned and premiered prestigious works by composers such as Arturo Márquez, Paquito D'Rivera, Daniel Freiberg, Óscar Navarro, Victoriano Valencia, Rubén Darío Gómez, José Manuel López López, Raquel García- Tomas, Bernat Vivancos, Joan Magrané, Enric Palomar or Núria Núñez Hierro among others. In addition, they have shared the stage with renowned musicians such as Paquito D'Rivera, the pianist Marco Mezquida or the singer Pere Martínez.
The BCPs have released seven albums presenting styles ranging from jazz, klezmer, flamenco, symphonic, and avant-garde. The group has toured extensively in the U.S., Latin America, and Europe, presenting their projects and teaching masterclasses at prestigious universities.
> Wednesday, October 11, Turner Recital Hall, 8p
> Friday, October 13, Ingram Hall, 8p | Special guests of the Vanderbilt Wind Symphony
Artist website: https://en.bcnclarinetplayers.com/