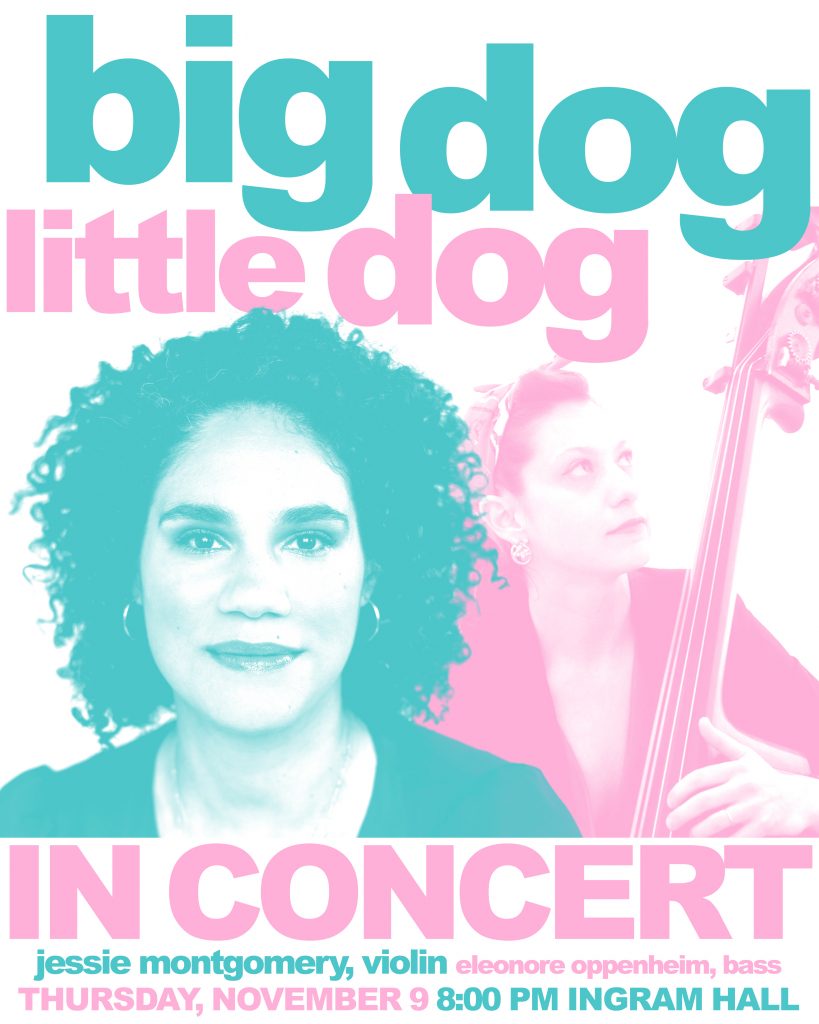 Vanderbilt University Blair School of Music will welcome acclaimed composer, violinist, and educator, Jessie Montgomery, to Ingram Hall on Thursday, November 9. Montgomery will perform with bassist Eleonore Oppenheim, a duo styled as big dog little dog. The concert event will mark the culmination of a three-year guest residency partnership, during which time she has visited the school on a regular basis to conduct masterclasses, host workshops, and join in other student interactions.
A special Chamber Works Masterclass will also be hosted by Montgomery on Monday, November 6, 7-9 p.m., in room 2192. The masterclass and Thursday concert event are both free and open to the public.
"It has been an honor and privilege for the Blair School to host Jessie during these past three years," says Composition & Theory Professor Michael Slayton. "Her work with our student composers and performers has been exemplary, serving as a zenith example of how artist residencies may be reciprocally beneficial to all involved."
A unique component of Montgomery's residency has been her engagement with students as they perform her works in chamber ensemble groupings, giving them the invaluable experience of receiving immediate feedback from the composer herself. As an outgrowth of these sessions, twelve Blair students will perform compositions by Montgomery to open the November 9 concert event.
big dog little dog, Montgomery's innovative duo project with bassist Eleonore Oppenheim, has been described as "post-minimalist groove Americana." The pair uses an improvisational composition technique that draws on many genres, and their experience as native New Yorkers, to create lush, cinematic soundscapes that are by turns sweeping and achingly intimate.
Jessie Montgomery is the recipient of the Leonard Bernstein Award from the ASCAP Foundation and the Sphinx Medal of Excellence; her works are performed frequently around the world by leading musicians and ensembles. Interweaving classical music with elements of vernacular music, improvisation, poetry, and social consciousness, Montgomery is an acute interpreter of the 21st-century American sound and experience. Her profoundly felt works have been described as "turbulent, wildly colorful and exploding with life" (The Washington Post).
Montgomery's growing oeuvre includes solo, chamber, vocal, and orchestral works. Some recent highlights include Shift, Change, Turn (2019) commissioned by the Orpheus Chamber Orchestra and the Saint Paul Chamber Orchestra, Coincident Dances (2018) for the Chicago Sinfonietta, and Banner (2014)—written to mark the 200th anniversary of "The Star-Spangled Banner"—for The Sphinx Organization and the Joyce Foundation, which was presented in its UK premiere at the BBC Proms.