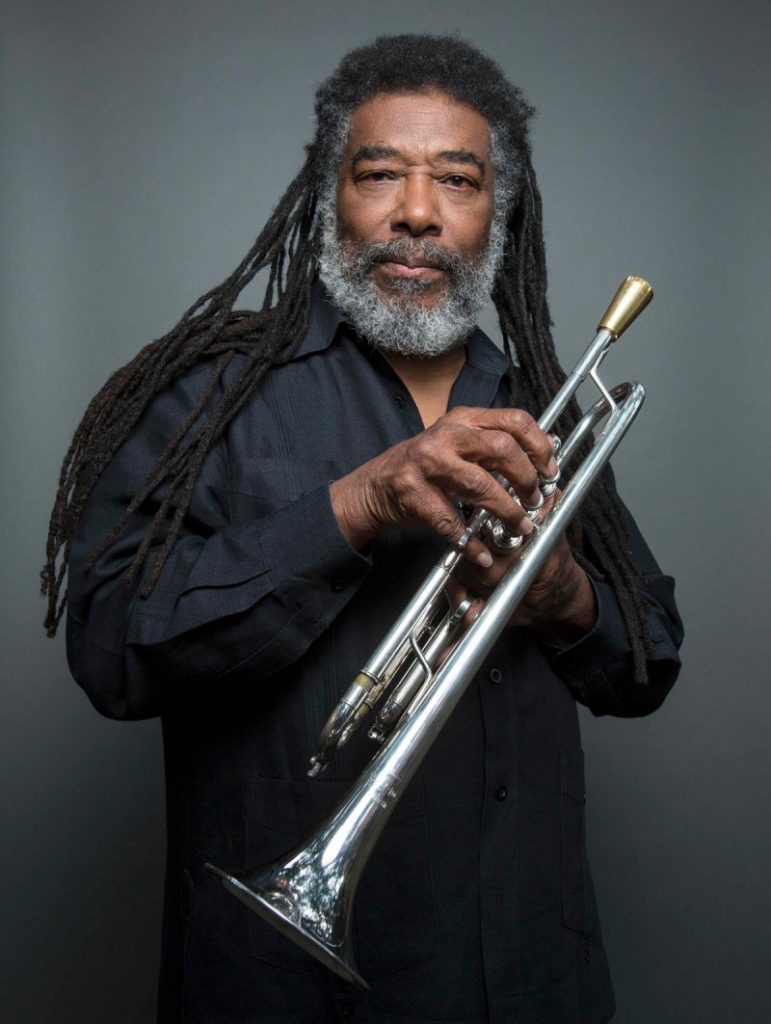 Lauded musician, composer, and educator Wadada Leo Smith will be at Vanderbilt November 28 – December 1 for a residency that will include two musical performances and a special forum interview event.
A creative visionary, Smith's lengthy list of accomplishments and accolades includes a Guggenheim Fellowship, Doris Duke Artist Award, and Hammer Museum Mohn Award for Career Achievement. His diverse and extensive discography includes more than 60 album projects as a solo artist or band leader. He was a finalist for the 2013 Pulitzer Prize in Music for Ten Freedom Summers, his epic tribute to the Civil Rights movement.
"Vanderbilt is rapidly becoming a global hub of research on music at the intersections of jazz and the avant-garde," said Douglas Shadle, an associate professor of musicology supporting the residency through the Chancellor's Faculty Fellowship program. "Engaging directly with legendary artists living at those intersections can transform how we think about creativity itself."
A consistent theme running through Wadada Leo Smith's career has been creating music centered in the ideas of spiritual harmony and the unification of social and cultural issues. These topics, as well as Smith's upbringing in Jim Crow Mississippi and the role creative practice can play in struggles for justice, will be explored in "A Conversation with Wadada Leo Smith," hosted by Anthony Reed, professor of English and Norman L. and Roselea J. Goldberg Professor of Fine Arts. The event is free to attend and will take place in the Central Library Community Room, Tuesday, November 28, 4:10 p.m. The program is sponsored by the College of Arts and Science's Racial Justice Grand Challenge Initiative, an interdisciplinary research effort led by Reed that explores the legacies of racial slavery and its connections to our modern world and institutions.
Public musical performances by Smith will include a Thursday, November 30 special guest spot with the award-winning Blair Big Band, 8:00 p.m., in Ingram Performance Hall; and a Friday, December 1 appearance with the Blair Contemporary Music Ensemble in Turner Recital Hall, 8:00 p.m. Both events are free to attend.
"The Blair Big Band is excited to collaborate with legendary composer and trumpet player Wadada Leo Smith," said Ryan Middagh, Blair's director of jazz studies. "His music will push the ensemble to play in the most creative of ways, and his presence here at the Blair School will be an impactful experience and dynamic collaboration for our students and faculty."
Joining Wadada Leo Smith for the week will be Ashley Walters (BMus'06), a successful Blair alumna who will be visiting classes, giving coachings, and meeting with students. Walters is Smith's closest musical collaborator and is writing a book on how to perform from his graphic scores.
Funding for this special residency comes from the Racial Justice Grand Challenge Initiative, the Office for the Vice Provost of Research, and the Chancellor's Faculty Fellowship.
Events:
Tuesday, November 28: A Conversation with Wadada Leo Smith, hosted by Anthony Reed, professor of English and Norman L. and Roselea J. Goldberg Professor of Fine Arts
4:10 p.m. | Central Library Community Room
Thursday, November 30: Special guest of the Blair Big Band, directed by Ryan Middagh
8:00 p.m. | Martha Ingram Hall
Friday, Dcember 1: Guest performer with the Contemporary Music Ensemble, a student group performing new works by current composers
8:00 p.m. | Turner Recital Hall
* * *
> Learn more about the Racial Justice Grand Challenge Initiative