Blair Academy at Vanderbilt is committed to making the study of music possible for all qualified students. The scholarship program was established by the founders of the school in 1965. Auditions take place each spring; awards are made for the coming academic year. Financial assistance is not available for adults (over the age of 19 or has graduated from high school) enrolled in the Academy. Limited funds may be available for new students at other times of the year. See the Blair Academy Handbook or contact Elm Stephenson, the Academy registrar, for more information.
If you are not a current Blair Academy student and are looking for scholarship information, please contact the Academy registrar, Elm Stephenson.
Departmental Audition Requirements
All auditions will be held live in the Spring semester. Scholarship applications will be available starting on February 17 and due March 10. Teacher recommendations are due April 1.
Please note: Vanderbilt Youth Choirs and Vanderbilt Youth Orchestra scholarship applications are separate. Please talk to your ensemble instructor for further information.
Brass

Please prepare two contrasting etudes or passages of solo pieces (5-7 minutes).

Fiddle

Please prepare two contrasting pieces (5-7 minutes).

Guitar

Please prepare two contrasting works. Together, these two pieces should be a minimum of five minutes in length. Please bring a copy of your repertoire to your audition.

Harp

Please prepare two contrasting pieces (5-7 minutes).

Percussion

Please prepare a two-mallet or four-mallet marimba solo or etude (4-7 minutes), and a concert snare drum solo or etude (2-5 minutes).

Piano (Current Grade 6 and Below)

Please prepare two contrasting pieces from two contrasting eras. Music must be memorized.

Piano (Current Grade 7-11)

Please prepare two contrasting pieces from two contrasting eras. Music must be memorized.

Strings

Please prepare one piece or two contrasting pieces, at the student's discretion.

Suzuki Strings

Pre-twinkle students: please perform one activity determined with the teacher
Book 1 students: please perform one piece
Book 2 and above: please perform two contrasting pieces

Voice

Please perform two pieces that demonstrate current vocal ability. At least one piece must either be an art song or a folk song arrangement, the second piece can be chosen from the following styles: art song, folk song arrangement, solo portion of a choral piece, hymn arrangement, classical musical theater (no belt), American song book jazz standard. Selections may be performed a cappella, with an accompaniment track, or a live accompaniment. Students must provide their own pianists if they intend to audition with live accompaniment. Applicants must be at least 16 years old by September 1, 2023, and either a junior or senior in high school. Students must be able to read music well enough to learn music on their own.

Woodwinds

Please prepare two contrasting pieces, no more than 8 minutes in length.
If you have questions regarding your scholarship application, contact registrar Elm Stephenson at 615-322-7655 or via email. If you are not a current Blair Academy student and are looking for scholarship information, please contact the academy registrar, Elm Stephenson.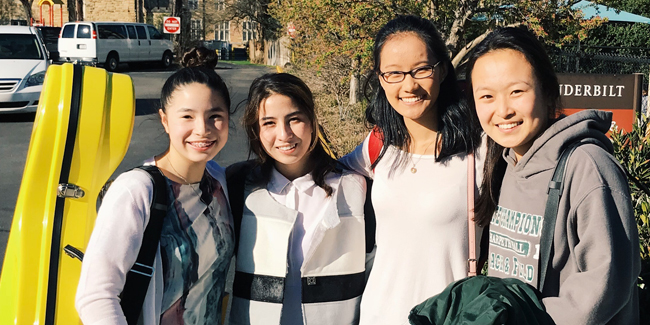 Myra Jackson Blair and Gilbert Memorial Senior Scholarship
Private Study and Class Responsibilities

All MJB Scholars are required to attend Fall MJB Orientation
Private lessons - a grade of 'B' or better is expected, demonstrating active participation in lessons, regular practice as assigned, punctuality, and excellent attendance.
Class enrollment and class participation in Music Theory and Music History classes (two years, beginning in grade 9). Again, a grade of B or better, active class participation, attention to homework preparation, and excellent class attendance are expected.
The scholarship coordinator schedules 3 outreach concerts in the community. Each scholarship student is required to perform on ONE of those concerts per semester.
All scholarship students are expected to demonstrate attendance at two concerts per semester.
All instrumental (non-piano) and voice students are expected to participate in the Vanderbilt Youth Orchestra program or the Vanderbilt Youth Choirs program as appropriate.
Piano students are required to enroll in Collaborative Piano or Chamber Music for a minimum of two semesters as approved by the studio instructor.
The Musicianship class is optional, highly valuable, and covered by the scholarship.

Scholarship Recital Performance Requirements

All senior MJB scholarship students are required to perform a solo on one scholarship recital in the fall semester. This recital serves as the student's jury. The fall recital dates are November 18, December 12 and 13. In the spring semester, all graduating seniors will perform on the Senior Graduation Recital. All MJBs are expected to attend this special recital.
Recital information should be submitted to MJB Program Coordinator Zachary Ebin by November 15. Students should work with the studio teacher and accompanist to select and submit a first and second choice of recital date.
Students are responsible for obtaining their own accompanists for scholarship recitals. See your studio teacher for instructions. Students are encouraged to invite parents, relatives and friends to these recitals. As a courtesy to other performers, all students are expected to stay in the performance hall for the duration of the program. 

Faculty Recitals/Concerts

All scholarship students are expected to attend at least two professional, faculty or collegiate large ensemble concerts. Concert examples: Nashville Symphony; Blair faculty recitals; guest artist performances, or large collegiate ensembles. For verification of attendance, students may choose to submit a printed program signed by the student and a faculty member at the concert, or a scanned photo of the signed program, or a QR code scanned and then emailed. These should be submitted to Zachary Ebin. This also counts toward the Certificate Program.

Grades

Each student will receive a grade in private lessons and classes in which he/she is enrolled. A grade average of "B" or better must be maintained in each subject. A student will be put on probation at mid-semester if their grade in classes or lessons is B-minus or below in either classes or lessons. At the end of the term, if the grade or grades are not up to the required level, the scholarship may be rescinded.

Scholarship Renewal

Scholarships are not guaranteed, nor are they renewed automatically. Students must audition each year. The Faculty Audition Committee will base its decision on the student's progress and audition competition, participation in classes, recital attendance, and outreach.

Additional Opportunities

MJB scholars are afforded the opportunity to study Chamber Music and Musicianship if so indicated on their scholarship award letter. These are optional.