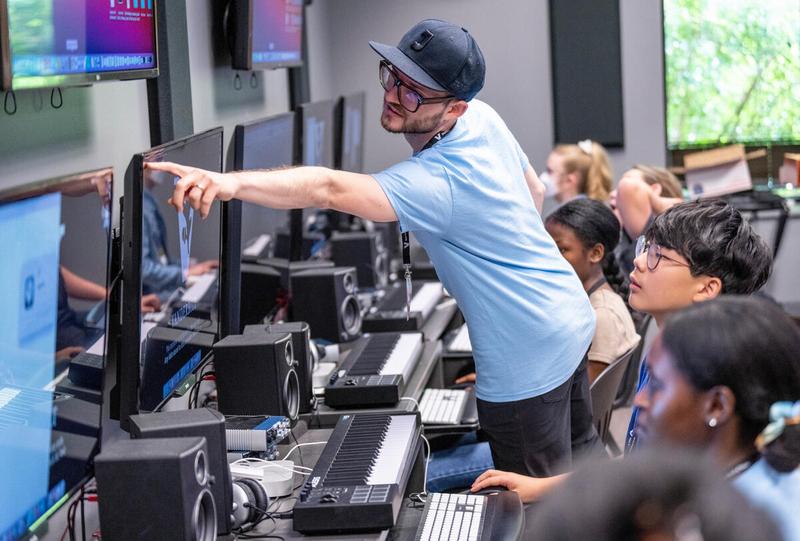 An Electronic Music Composition and Technology Camp That Goes Beyond Education
Dates: July 10-14, 2023 
Recommended for ages 12-17
Dive into the world of video game music composition with MusicTech at Vanderbilt University. MusicTech offers an exceptional summer experience for teens with a passion for video game music and game design.
The program provides campers with the foundational tools of digital music creation, combined with creative skills. You'll learn to compose original game music alongside likeminded technologists and industry experts. The program is based on methods and models used in the music technology courses taught at Vanderbilt Blair by Pascal Le Boeuf.
Vanderbilt University's MusicTech is much more than the typical summer camp experience. Discover the difference with a friendly environment of radical acceptance and "geek culture" where kids form meaningful relationships, grow socially and have a summer to remember!
MusicTech engages students through a combination of hands-on, production-based projects and group interactive experiences, learning a multitude of skills including but not limited to Logic Pro and digital music composition.
Camp sessions are conducted in small groups and led by award-winning staff and are appropriate for all levels of experience, from beginners to more experienced students. Topics include:
Work in Logic Pro X in our state-of-the-art studio
MIDI sequencing, sound synthesis and digital audio
Hands-on video game music composition projects
New for Summer 2023
Stay Overnight! 
Overnight campers get extra time in the labs after commuters head home for the night. Here we continue the evening fun of gaming and events, including some special events just for overnighters. Campers will head to the dorms each night and can hang out some more in our dorm lounges or head to bed. Rest up, lots of fun ahead!
Overnight campers receive three meals a day from the campus cafeteria. Campers are awakened each morning and  gather for a trip to the University Dining Hall for breakfast. Plenty to eat before we head to the labs to begin your day! Lunch and dinner will also be served daily, of course. 
All of the dorms are equipped with twin extra long beds. If you would prefer not to bring your own linens, add the linen rental option. This will ensure that the following items are already in the dorm room when you arrive: a fitted sheet, flat sheet, towel, wash rag, a light blanket, pillow and pillow case.
Flying In? 
For students traveling alone to Nashville by air, Blair School of Music (BSM) requires students to take a BSM provided shuttle from the airport to campus.. If students will be flying out of Nashville alone from they will also be required to also take the provided shuttle. The VSA shuttle fee is $75 for round trip service. There is no discount for one-way service. The BNA airport is located approximately 20 minutes from Vanderbilt without traffic delays. A BSM staff member will be in touch with families at least one week prior to MusicTech to coordinate shuttle transportation for MusicTech students.
BSM required shuttle service at the airport will begin at 1pm CT on check-in day. Please schedule a flight that arrives in Nashville between 1pm and 5:00 p.m. CT. A BSM staff member will be present at BNA's baggage claim area to greet all students to Nashville during the previously specified time frames. Additional information, including logistics for meeting the BSM staff member, the name of the BSM staff who will be greeting the student, and contact information for day-of correspondence, will be emailed closer to the start of the program. 
Students flying alone out of Nashville at the end of MusicTech will be required to take the BSM shuttle to BNA on check-out day. Check out is immediately following breakfast at 9am, with anticipated airport arrival at 9:45am.  Please schedule your camper's departing flight between 11:30am - 2pm.
MusicTech
Learn the fundamentals of digital music composition and coding in a friendly environment of radical acceptance where campers form meaningful relationships, grow socially, and have a summer experience to remember.
It is not required that you read music!
Campers will learn to compose original game music alongside like-minded tech enthusiasts and award-winning industry experts.
MusicTech offers much more than your typical summer camp:
Create hands-on video game music projects
Work with Logic Pro X in our state-of-the-art studio
Learn MIDI sequencing, sound synthesis, and digital audio design
Recommended for ages 12-17
Perfect for beginners as well as intermediate and advanced students.