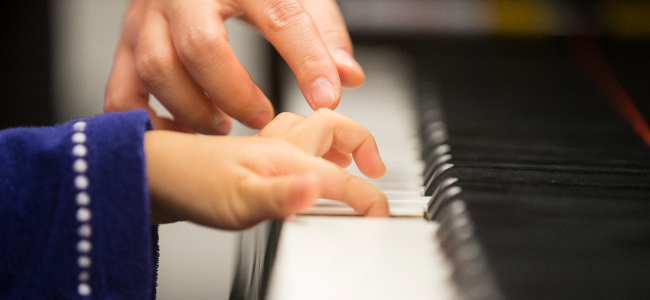 Blair Academy is excited to return to in-person instruction this summer!
Registration is open as of May 2, 2022.
Blair Academy offers classes and lessons for all ages, from infant to adult. Blair Academy's world-class faculty strive to help each student grow in skill, artistry and enjoyment in music. All of us at Vanderbilt Blair Academy are grateful for your support. We invite you to explore music with us this summer!
For more information, please contact Arianna Schickel, Blair Academy registrar, at 615-322-7655 or via email. You may also download the Summer 2022 programs brochure.
Music Theory Without Fear
Kevin Rilling, Instructor
Dates: June 6-10
Note: This course is offered via Zoom, not in-person

Music theory can be fun! Unlock its secrets and learn how to read, write and understand theory in this lively course. The course is designed for anybody who wants to gain a fundamental understanding of theory in a short time. This is an excellent college prep or review course, but no previous experience is necessary. See the Music Theory page for details, or contact Kevin Rilling via email.
Kindermusik
Amy Alley, Program Coordinator
Dates: Classes start the week of June 6 and run for five (5) sessions
Three Kindermusik classes will be offered in-person this summer: Cuddle & Bounce, for infants and babies; Family Time, for babies through age 4; and Wiggle & Grow for children ages 2-3. Make-up sessions are available if families must miss a class, and all participants receive online access to the Kindermusik@Home curriculum. For details about all three programs, please visit the Kindermusik page.
MusicTech 2022
Dates: July 12-13
Ages: Recommended for 12-18
Dive into the world of video game music composition with MusicTech at Vanderbilt University. MusicTech offers an exceptional summer experience for teens with a passion for video game music and game design. For details and to register for this two-day intensive, please visit the MusicTech page.
Summer Private Lessons
Private summer instruction is available in piano, strings, brass, guitar, oboe and saxophone. Summer lessons depend on teacher availability, so please check with your instructor or the Blair Academy registrar before enrolling. Students may enroll for as few as three weeks and as many as 15, if the teacher agrees. Lessons may begin the week of May 9. Sign up for the correct number of lessons in VUPace. See the Summer 2022 programs brochure for rates and more information.
Suzuki Violin and Cello
Zachary Ebin, program director
Open to students ages 4 and older, Suzuki instruction develops musical skill and sensitivity using listening and imitation, the same process used in learning language. New students are welcome! Visit the Suzuki page to learn more, or contact program director Zachary Ebin at 615-322-7665 or via email.
Partner Piano
ChiHee Hwang, program coordinator
Students ages 3 and older learn rhythm, pitch, musical terms, and notation in a combination of private and group instruction. New students are welcome. See the Partner Piano page for more information, or contact ChiHee Hwang at 615-322-7670 or via email.
Registration Information for Summer 2022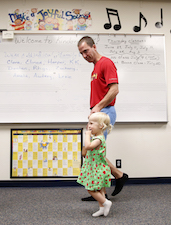 Kindermusik: Family Time (multi-age)
A curriculum designed for everyone! Engaging for the youngest child yet challenging for the preschooler. Musical and developmental learning in a fun environment. One child or two…..mom, dad, nanny or grandparent…..all are welcome! Tuition is priced per family.
Ages: infant and up with parent or caregiver.
Thursdays 4:30-5:15 p.m. (Section 025) and 5:30-6:15 p.m. (Section 026)