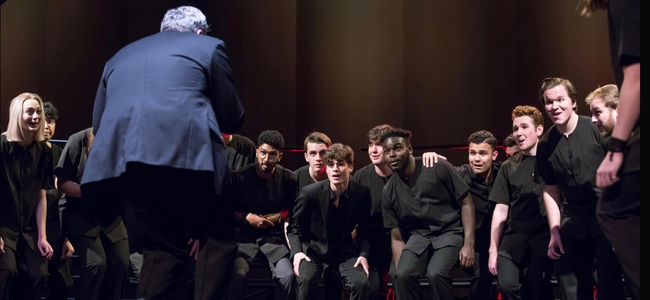 The choral offerings at Vanderbilt University are designed to make a quality choral ensemble available to each Vanderbilt student. All Vanderbilt Choirs are open to both music and non-music majors, both for credit and not-for-credit. Scroll down to see the choral offerings at Vanderbilt.
Blair's Director of Choral Studies is Tucker Biddlecombe. He also serves as Chorus Director for the Nashville Symphony Orchestra.  
Choral Offerings
Vanderbilt Chorale - MUSE 2120 [1.0 credit]
Meeting Times (Spring '23): MWF 3:35-5:15 p.m.

Open by audition to all Vanderbilt students (both music and non-music majors), this select 55 voice choir performs music in a variety of styles, and performs multiple formal concerts per semester with bi-annual national tours. High levels of musicianship, preparation, and vocal flexibility are required.
Vanderbilt Chorale will be re-auditioned each semester. At least one semester of past participation in a curricular collegiate chorus is required. Audition information is available by filling out the returning student questionnaire.
Vanderbilt University Singers - MUSE 1020 [1.0 credit]
NOTE: In Spring '23 University Singers will meet as one mixed choir.
Meeting Times (Spring '23): TR 4:15pm-5:35pm
No audition required. Open to all Vanderbilt students (both music and non-music majors), this choral ensemble performs choral music of all genres, and combines with the orchestra to perform major choral works each year. This ensemble fulfills ensemble credit for students majoring or minoring in music, and is open to non-majors who meet prerequisite standards of music reading, vocal quality and choral experience.
University Singers is a non-auditioned chorus. If you are a new student you should register for the course, however you will need to complete a voicing by appointment during the first week of classes to determine your voice part.  
Blair Jazz Choir - MUSE 1330 [1.0 credit]
Meeting Times (Spring '23): TR 2:30pm-4:00pm
Read here about our new director Mark Kibble, member of Take 6. Open by audition to all Vanderbilt students; ensemble is usually limited to 12 voices plus rhythm section. Repertoire includes scat, contemporary, and standard jazz. On and off-campus performances throughout the semester.
Concert Dress
Option 1:  Black tuxedo, black collared button-down shirt, white tuxedo shirt, standard sized black bow tie, black socks, black shoes
Option 2:  Conservative, ankle-length black dress, black skirt (no slits), or black dress pants with long sleeved black blouse, closed-toe black shoes.
Option 3: Multiple variations available per meeting with instructor. 
Chorale Only: Tunic provided. You must provide tuxedo bottoms or dress pants (no leggings or denim) with closed toed dress shoes. 
Music in the Listening Place
The Vanderbilt Chorale released their first full-length album in February of 2018, entitled  Music in the Listening Place.  This album has been described as "a taster of the emotional highs and lows choral music can evoke in the listener" (Review Graveyard). The American Record Guide labeled this record as "a fine album, in part because of the intense performances of the students of the Vanderbilt Chorale" (American Record Guide). Click the playlist below to hear the album in its entirety, or download on Amazon, iTunes/Apple Music, or Spotify.