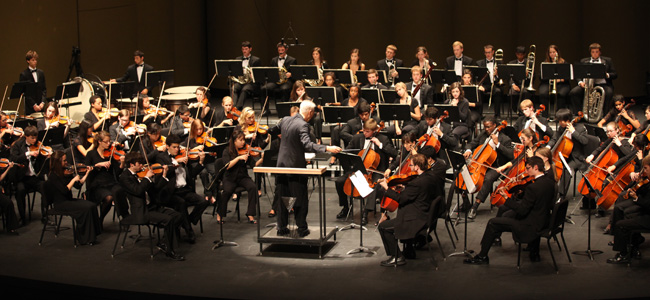 Overview
At the Blair School of Music, a rotation system for instrumental ensembles provides students with a wide range of opportunities within each semester. Orchestra and Wind Symphony are rolled into one "instrumental ensemble" course that encompasses the same amount of contact hours per semester as one conventional ensemble.
Woodwind, brass, percussion, and string students all enroll in one course, MUSE 1010: Instrumental Ensembles, which is team-taught by the conductors, Robin Fountain and Thomas Verrier, and has a single syllabus and set of grading criteria. Participation in this course is outlined below.
MUSE 1010 is a multi-year experience. Participants progress from a level of demonstrating knowledge of concepts (year 1), to incorporating deeper understanding and independent use of concepts (years 2-3), to sharing in the teaching and mentoring of concepts (year 4).
Goals
The Vanderbilt Orchestra and Wind Symphony serve as "artistic laboratories" in which musicians integrate learning from their total Blair School of Music experience. Through their MUSE 1010 experience, students develop a toolbox of ensemble skills based on six principles of ensemble music-making that will serve them in a variety of collaborative musical environments in the future.
The Instrumental Ensemble Program is designed to work toward four goals:
Development of students' skills as ensemble players - concentration, listening, instantaneous adjustment, breathing, following the conductor's visual and verbal instructions, and retention of information over the span of a rehearsal sequence.
Development of students' professional habits and ethics - preparation, promptness, and mutual support.
Development of students' knowledge of the orchestra repertoire and of a range of appropriate playing styles.
Development of an ensemble whose performances invariably exhibit a very high level of competence and artistry.
Ensembles
The Vanderbilt University Orchestra focuses on the highest-quality performance of canonical classical romantic and 20th-century works, with additional repertoire drawn eclectically from a wide range of periods and styles. Students become immersed in the stylistic demands of particular composers and periods, while honing their skills as ensemble players. Commercial recordings and collaborations with guest composers and other artists are important components of the ensemble's activities.
The Vanderbilt Wind Symphony comprises woodwind, brass, percussion, harp, piano, and double-bass students. Its repertoire consists of canonical works and new compositions, including settings in a diversity of styles and genres. Particular features of the Wind Symphony experience include participating in commercial recordings, performances at conferences and on tour, interacting with living composers, and working with guest artists and Blair faculty performers and composers.
The Vanderbilt Opera/Oratorio Orchestra provides an opportunity for students to learn the important art of vocal accompaniment through collaboration with the Vocal Department in Vanderbilt opera and oratorio productions
Grading
Grading is designed to encourage students toward the above-outlined goals. Good grades are not given, but are earned through careful adherence to the following ensemble policies:


Students are expected to attend every rehearsal of every piece for which they have an assigned part.


Students are expected be in the rehearsal space a minimum of five minutes prior to the scheduled rehearsal start time of any piece to which they have been assigned.


Students are expected to concentrate during rehearsals and to support each other's playing.


Students are expected to become familiar with all assigned material before the first rehearsal of that work. Recordings are on reserve in the library.


Students are expected to be fully prepared (correct pitch, rhythm, tempo, bowing, breathing, good tone) for each work by the assessment date indicated for that work in bold type on the schedule. From that date onward, students may be asked to play alone or in small groups during rehearsal to determine preparedness. Students requiring individual assistance to assure preparedness should sign up for a scheduled coaching time prior to the assessment date. Students are also encouraged to seek preparation assistance from their instrumental teachers and/or fellow students. Seeking such assistance does not violate the VU Honor Code in any way.


Sectional rehearsals outside of class time may be determined necessary by section leaders. In such cases, it is the responsibility of the section leader to establish a time at which all members are available, and to book a suitable room. It is the responsibility of the section members to attend.


Students are expected to honor the Ensemble Dress Code at all performances.


Should the instructor feel that a particular student is inadequately prepared, or failing to adhere to other ensemble policies, the student will be informed immediately via email, and asked to explain why his or her grade should not be negatively impacted. The student will be given a time period within which to demonstrate full preparedness or policy compliance, for partial restoration of grade level.


Each student will participate in four ensemble segments during the course of the semester, with a grade for each segment assessed by the conductor of that segment. The student's final grade will be an average of these four grades. No M grades can be given for this class.


Schedule
There are three (3) concert rotations per semester, and each rotation is four weeks in length. Orchestra and Wind Symphony rehearse simultaneously. Regular rehearsals run for 90 minutes and occur during the scheduled block of time for the course (3:10-5:20 p.m. Monday/Wednesday/Friday). During most rotation cycles, an additional evening dress rehearsal (8-10 p.m.) is scheduled.
Ensemble auditions take place at the start of each semester. Student placements are assigned by the conductors in consultation with studio faculty.
Ensemble Dress Code
Black jacket and pants, white shirt with standard collar, dark long tie, black shoes and socks.
Conservative, professional, dressy black attire.
Please note that there will likely be occasions at which all ensemble members are asked to dress in option 2.