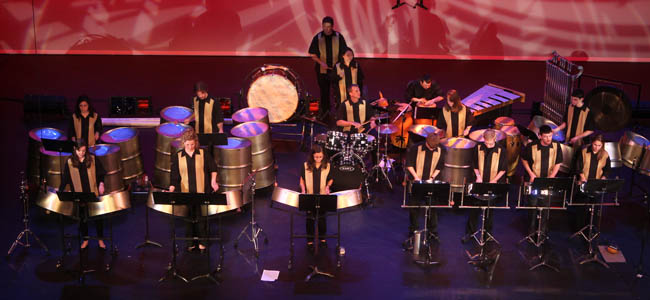 Ensemble Director: Mat Britain
The Vanderbilt Commodore Steel Band program was formed in Fall 2004 and is under the direction of Mat Britain.
In a few short years, the steel band program has grown to include three steel drum bands consisting of more than 45 performers, both music majors and non-majors.
The beginning steel band (MUSE 1200) has no prerequisites and requires no previous musical experience.
The advanced steel band (MUSE 1210) has a prerequisite of at least one semester in the beginning group.
The top steel band in the program (MUSE 1220) is an audition-only group featuring the top players in the program.
These ensembles focus on musical styles such as Calypso and Soca from the Caribbean, with emphasis on music and history from the island of Trinidad, birthplace of the Steel Pan.
The steel bands have performed at the Blair School of Music, Earth Day Celebration at Centennial Park, Windows on the World Festival at Tennessee Tech University, Fisk University, Vanderbilt Divinity School, Dyer Observatory Concert Series, and with the Vanderbilt "Spirit of Gold" Marching Band.
The steel bands meet at the Blair School of Music throughout the year, including summer sessions. The ensembles are open to all Vanderbilt students, as well as Blair's precollege and adult students.
For more information on the program, contact Mat Britain via email or at (615) 585-4786.