Juilliard violist Heidi Castleman hosts master class via video, Feb. 26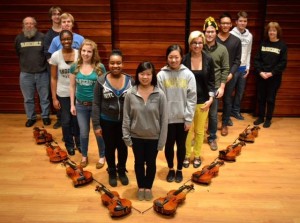 Juilliard viola professor Heidi Castleman, one of the leading viola pedagogues in the U.S., will conduct a master class with Blair viola students via videoconference from 11 a.m.-1 p.m. February 26, in Blair's Choral Hall.
Blair's viola studio won the class through a membership drive with the American Viola Society. Viola students Libby Doubrawa, Daniel Moore, Olivia Palazzolo and Laura Williamson will perform on the class. The public is welcome to attend and observe.