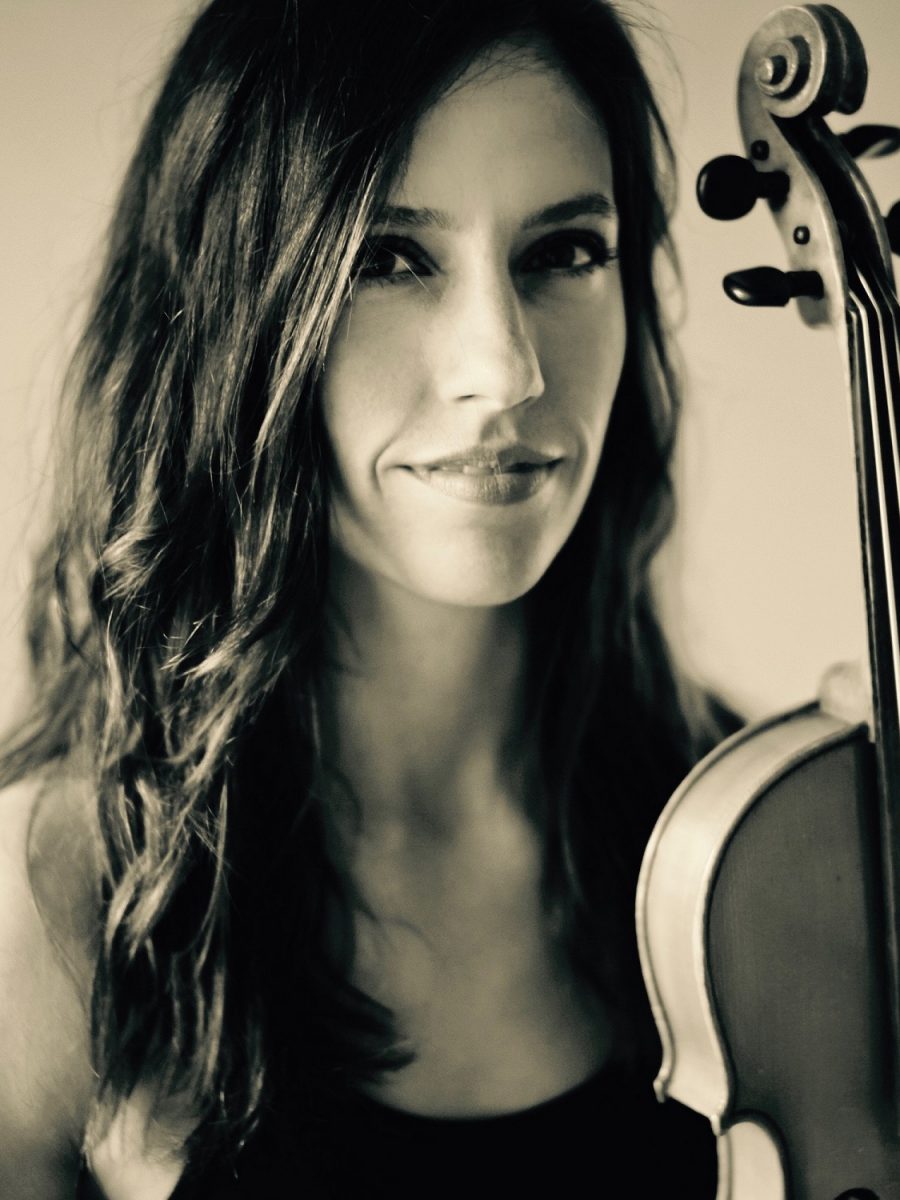 Alicia Enstrom
Violin Performance 2009
Artistic Director,
ALIAS Chamber Ensemble
What have you been doing since graduation?
After graduation, I was the solo violinist/electronic violinist with two different Cirque du Soleil shows. Wintuk was Cirque's holiday special at Madison Square Garden's WaMu Theatre in New York, and Quidam was an international touring show. In Nashville, I'm fortunate to do a little bit of everything — substitute with the symphony, session work, perform with a jazz group, and continue to work on my own material and compositions.
What does a typical day look like for you?
My weekly schedule tends to fluctuate depending on what needs to be done. I really enjoy and feel fortunate with the diversity of work.
Do you think Blair prepared you for what you're doing now?
I think that classical music and a classical education really gives you fantastic facility and knowledge. Blair was such a special experience — professors like Billy Adair, Chris Teal and Carolyn Huebl, Roger Spencer and Beegie Adair, really gave me the tools I needed musically, but also helped prepare me for a career in the real world. During my time away from school, I really had a chance to see and feel how my education was applying to the field, and that was sort of a special glimpse into the future.
Are there things you incorporate in your daily work that you learned here, maybe from a faculty member or a master class you participated in?
I think the one thing that was really fantastic about my Blair experience is that most teachers were very encouraging to my desire to learn and perform in various styles. Because I had so many interests in addition to my classical playing, I really needed to learn how to organize my time. Now I might be learning a classical concert, learning a few jazz tunes for a performance and working on a tune of my own, with a few recording sessions in there all in the same week. Time organization is pretty important.
What is your favorite memory of Blair?
My favorite part was my teacher, Chris Teal. He was very involved and incredibly inspiring to me in so many ways. He was always trying his best to work with students in the most productive way for them and always made everyone smile. I had the opportunity to work with and get to know all of the violin teachers as well, which was really special.
So far, any favorite memories or experiences from your life as a professional musician?
I feel very thankful to have gotten to see and perform in so many parts of the world. It was basically 10 years on the road. My solid classical foundation has given me the tools to do so many different things, and my travels have given more meaning to my creative voice.
What do you think is most important in maintaining a successful music career?
I always want to feel like I'm learning new things musically and pushing myself. If I'm not, then it's time to try something new. When you start to feel too comfortable, it's time to start itching toward uncomfortable. That's when light bulbs go off and more learning takes place. When I was first starting music, I was scared to play or try new things or to be wrong. However, after some of the jobs I've had, I've learned that sometimes those are the most important and personally groundbreaking experiences. I also try to exercise almost every day.
If you could apply to college again, would you still choose Blair? What sets Blair apart from other programs?
I think because of where Vanderbilt was located in Nashville, that was a big factor. I wanted to expand my knowledge in classical music and all other styles. I knew, no matter what, I would get a wonderful education at Vanderbilt and have the ability to take different courses that I might not have had the chance to take at a conservatory, like the Human and Organizational Development courses.
What advice do you have for students interested in being a music major and going on to pursue a career in music?
Be open to all opportunities and easy on yourself when you make mistakes. Try your best, and even if you fail or feel uncomfortable at times, pick yourself up and start again. These might be the most important points in your life.
Speaking of Nashville, we are lucky that Blair is located in such a fantastic musical location. Just for fun, could you tell us your favorite Nashville venue to see live music?
Honestly, I don't know if I have a favorite one, but what's really interesting is that slowly there are more and more places opening with all different types of music going on. There are so many different amazing places in town, and it really comes down to what your ears feel like eating.
What other projects are you working on now?
I am currently releasing a tune at a time of my new music collection called A monstEr ROARS. The collection initially began with me trying to create music that was produced solely with violins or my face, as I like to joke. I put ukulele strings on one violin, I did all the percussion utilizing the violin, I pulled in effects, etc. I wrote and played all the music in this collection and am releasing it with an art visual monthly, collaborating with some amazing artists from around the globe. I also perform the music live via looping pedals, and sometimes on a spinning hoop.