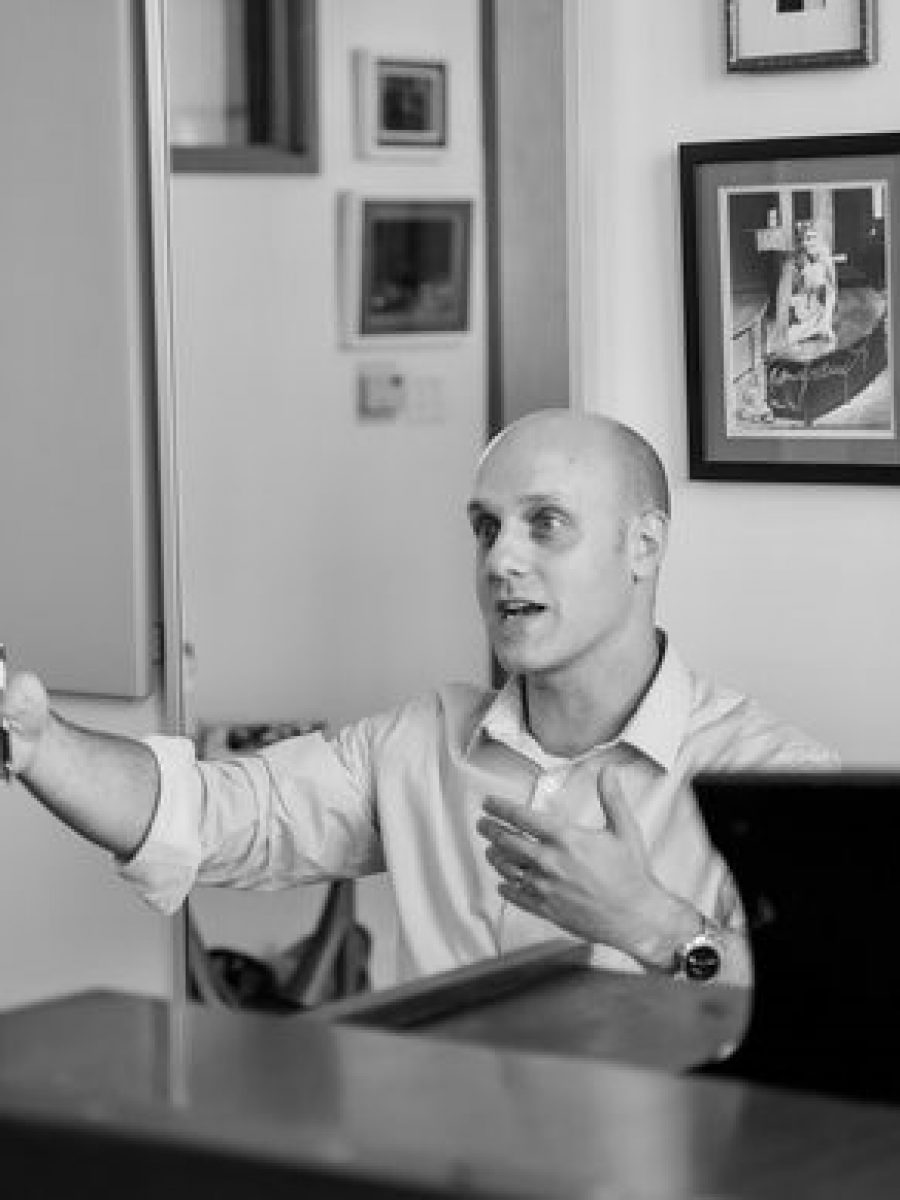 Evan Mack
Piano Performance 2003
Composer, librettist and pianist; teaching professor in piano, composition and music theory,
Skidmore College
Currently:
Named "2018 Top 30 Pros of the Year" by Musical America
His opera The Ghosts of Gatsby won the 2019 National Opera Association's Argento Competition
His children's opera, Lucinda y las Flores de la Nochebuena, received six different productions across the U.S. over the 2019 holiday season
What does a typical day look like in your career?
I am always dealing with something in the short, middle  and long term. For example, on a day like today, I have an orchestration deadline for a symphonic work that is premiering next month. I am putting finishing touches on that today so that the musicians can have it. Then I have a conference call regarding a comedic opera that I am working on. It currently only exists as a treatment. I'm writing the music and collaborating with (Blair professor) Joshua McGuire, who is the librettist. That's premiering in 2020. The Ghosts of Gatsby is our latest opera, and we are workshopping that at the Seagle Music Colony in New York and premiering in November at Samford University in Alabama.
How did your undergraduate studies at Blair shape your career?
What I appreciate the most about Blair is that it really crafted me as a full musician. To be a 21st-century musician, you have to adapt to many things. A lot of the successful pianists write their own music, negotiate their own contracts, etc. You aren't really buried in a practice room, but you're interacting with a music community from start to finish and finding ways to adapt to anything that comes at you. I was so prepared with Blair because it gave me a huge background with music history, philosophy and theory, and that prepared me for doing whatever I wanted because of the strong foundation it provided.
Are there things you incorporate in your daily work that you learned at Blair, maybe from a faculty member or a master class you participated in?
I just had a back-and-forth email with Stan Link, who was my composition teacher at Blair. He and Michael Slayton are people I still use as sounding boards today and as a resource. You make these lifelong connections with professors. You are one of 15 people in a class, many times. In my composition, I can kind of hear both Stan and Michael — their guidance and their voices to challenge myself and do more, try different things, give five different musical versions to one thought, etc. A few months ago, I was giving a student a piano piece that I had played in college. The book I had still had (piano professor) Craig Nies' handwriting on it. I could still impart that wisdom to my students.
In terms of my teaching, I think a lot about what Karen Ann Krieger taught me in pedagogy. We were lucky to have her come up for a master class at Skidmore this past fall, too!
What is your favorite memory of Blair?
Meeting my wife! That is the first. My other favorite memory, I was able to play the Barber concerto with the Vanderbilt Orchestra. Another, I had written a ballet based on Pinocchio, and Josh McGuire at the time was studying conducting. He formed an orchestra, they played Appalachian Spring, and they played my Pinocchio ballet work. It was an all-volunteer orchestra, and it was just thrilling to have that performed. Later on, I was even able to use that recording to pitch it to the ballet in Charleston, W.Va., so eight years after the Vanderbilt performance, the piece received a full premiere.
So far, do you have any favorite memories or experience from your life as a professional musician/teacher?
The premiere of my children's opera by Fresno State Opera Theatre. Lucinda y las Flores de la Nochebuena is a multicultural Christmas opera based on the Mexican folktale of the poinsettia. There were 300 children, most of whom had never been in the theater, laughing, crying and shouting at the opera. It was incredible. It was so emotional and thrilling to see these children who had never experienced this genre responding to something they'd never seen before so enthusiastically. The piece is being done around the U.S., and thousands of children from all over are now experiencing the opera.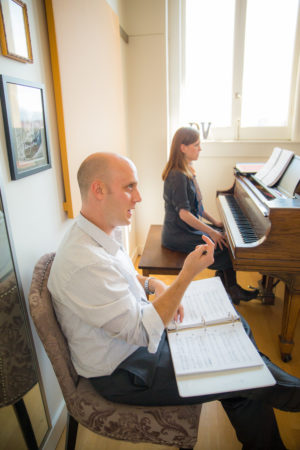 What routines, ideals or practices do you think are most important in maintaining a successful music career/balance between both careers?
On days when I'm teaching, all my energy is focused on that. My ritual on days when I am not teaching, I try to reserve the morning, about two hours, to just try and write. Sometimes I am just staring at a blank page or playing the same thing over and over again. I don't answer emails or answer the phone, I'm just trying to create. What that does is makes composing a routine thing.
A lot of students get caught up in the idea of needing to be "inspired." Sometimes I have hours where I don't write anything, but I've never had writer's block, because I think it's engrained in my routine.
Another thing is getting used to pitching yourself and knowing that rejection is really a part of the business. Focus on trying to make all of the nos into yeses and maximizing your successes to their fullest potential — holding on to your successes.
What sets Blair apart from other programs?
Certainly the size and the ratio between faculty and students. The quality of faculty and musicianship of students at Blair is just great. I would have been lost if I left home and left for a conservatory where I was just one of 1,300 people. At Blair, I was able to pursue other things, like composition, outside of my major. I could hone my craft and have support directly from faculty. I think that I would have been lost with a larger number of students. I can't imagine competing for an orchestra spot against a 25 or 30-year-old graduate student during your undergraduate years. Blair allows you to nurture your talents within a space that is age-appropriate and talent-appropriate, to a high degree.
Another reason I went to Vanderbilt was because I could also complete all of the pre-med requirements for medical school, which I did do by my junior year.
What advice do you have for students who are interested in being a music major and going on to pursue a career in music or in something else?
In addition to trying to be a complete musician — branching out to musicianship skills — in addition to that, I try to recommend two things that I wish I had taken a course on. Music is a business, so try to take a business course or a course in grant writing. Take classes outside of music. Half of my connections with people are in discussing subjects outside of music, as they influence my compositions and my operas. I loved taking a Civil War course at Vanderbilt, and a psychology course, which was extremely helpful because you're always dealing with personalities as a musician!
We are lucky that Blair is located in such a fantastic, musical location. Just for fun, could you tell us your favorite Nashville venue to see live music?
I actually loved walking down Broadway and Second Avenue and stopping in from place to place. You either had unbelievably great music or unbelievably bad music, and it was always such a thrill! Each night was a different experience, so that was my favorite connection in Nashville.