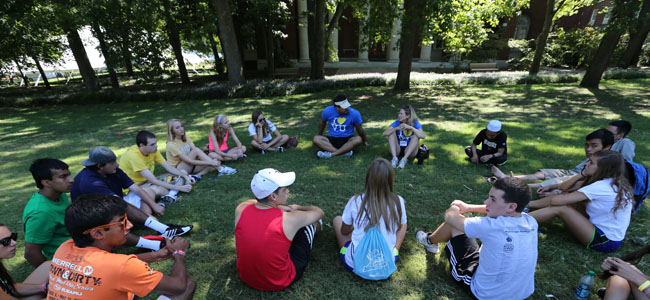 Opportunities at Blair
The Blair School of Music welcomes the general student to its classes and studios. A number of courses are designed specifically for non-music majors. Performance instruction is available for university credit, and several ensembles sponsored by the school are open by audition for credit and available to members of the general community.
Declare a Second Major or Minor in Music
Blair offers a non-professional liberal arts major in music that requires a minimum of 31 hours. Designed jointly by Blair and the college of Arts & Science, it is also available to Peabody and Engineering students as a second major. Undergraduates can also elect one of four minors at Blair: General Music, Musicology/Ethnomusicology, Music Performance or Composition. 
Private Lessons
Private and group lessons are available to all members of the university community.
Private Lessons

Private lessons focus on the art and practice of an instrument or voice, with emphasis on tone quality, technique, rhythm, interpretation, and literature. Additional course fees are charged for these classes; see info below.

Students who will be new to private instruction at Blair should interview for placement:

Go to the Schedule of Classes to register, searching for the instrument name, plus course number 1100
Select section "00" to be included on the roster for interview/placement
Contact the faculty interviewer listed to schedule an appointment (piano has walk-in interview times listed)

Placement is subject to availability and other departmental factors. Faculty interviewers should advise you of availability and will indicate correct course registration information. Students must enroll in correct section before their lessons begin. 

Group Instruction

Group instruction is designed for beginners and emphasizes basic technique, rhythm, tone and musical interpretation. Groups are limited to six students and each class earns one credit hour. Students do not need to interview, but may register as they do for any other Vanderbilt class.

Available courses are:

PIAN 1010/1020
GTR 1010/1020
PERC 1010
FDDL 1010
STPN 1010

Fees for Music Instruction

Professional-level applied instruction carries a music fee. These fees are standard at any school of music and are non-refundable after the first week of classes. Current fees are listed in each section of the Schedule of Classes.

Note: Music fees are set annually by the Vanderbilt Board of Trust. They are subject to review and change without further notice.
Classes for General Students
A number of music courses at Blair are designed specifically for non-music majors. Some classes are available to VU Faculty and Staff for audit.