Summer 2022 update
We are pleased to welcome Kindermusik back for in-person instruction at Blair Academy in Summer 2022! Please see the Summer Offerings page for details.
This nationally acclaimed music program is designed for children from infancy to 5 years old and their caregivers. Participants enjoy singing, listening, dancing, interacting socially, and playing simple instruments. The program offers a variety of classes and summer camp programs that focus on the child's emotional development as confidence, curiosity, self-control and communication begin to take shape.
Blair's program has attained Maestro status from Kindermusik and is listed in the Top 200 of all Kindermusik programs internationally.  
Instructor Amy Alley has more than 20 years of teaching experience. She is a writer of the Kindermusik University Fundamentals Course for educator training and is also on Kindermusik's Peer Licensing Board. 
Kindermusik: Cuddle & Bounce (infant)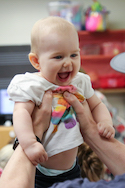 Infants and crawlers (with a parent or caregiver) Enjoy a special bonding time with your newborn, infant, or crawler as you dance, sing, and explore. Experience the joy of incorporating music with your baby to jumpstart earliest learning. Wednesday at 11:30 a.m.
Kindermusik: Family Time (multi-age)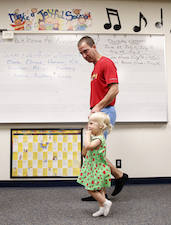 Babies to age 4 (with a parent or caregiver) Perfect for families with two young children. Sing songs for clapping time, and use music to help regulate remotions. This one-on-one time will give your child the love and attention they crave. Tuition is priced per family. Wednesday at 9:00 a.m. or Thursday at 5:15 p.m.
Kindermusik: Wiggle and Grow (2-3 yrs)
Ages 2-3 (with a parent or caregiver) Wiggle and Grow balances movement, singing, chanting, listening and playing simple instruments in a secure, loving environment with each child's grown-up close at hand. Children develop pitch, rhythm, and listening skills while learning songs, chants and stories. Wednesday at 10:15 a.m. or Thursday at 6:15 p.m.