This nationally acclaimed music program is designed for children from infancy to 5 years old and their caregivers. Participants enjoy singing, listening, dancing, interacting socially, and playing simple instruments. The program offers a variety of classes and summer camp programs that focus on the child's emotional development as confidence, curiosity, self-control and communication begin to take shape.
Blair's program has attained Maestro status from Kindermusik and is listed in the Top 5 percent of all Kindermusik programs in the U.S.  
Instructor Amy Alley has more than 20 years of teaching experience. She is a writer of the Kindermusik University Fundamentals Course for educator training and is also on Kindermusik's Peer Licensing Board. 
Fall 2020: Zoom into Kindermusik!
Due to ongoing health concerns over the COVID-19 novel coronavirus, Fall 2020 Kindermusik classes will be conducted live online via Zoom. You and your child will enjoy quality music, movement and instruction in the comfort of your own home. Parents and caregivers will participate together as they would in the classroom. Enjoy connecting with old friends and meeting new families!
Kindermusik: Family Time (multi-age)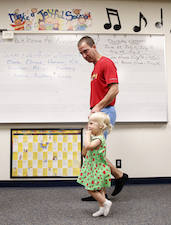 Ages: Multi-age. Designed for families with two children, ages infant and up; one-child families may also enroll. Each week you'll discover how music helps your family laugh, share, and take turns. In the multi-age class, explore musical and developmental learning in a fun, family environment!
Kindermusik: Laugh & Learn
Ages 3-5; adults join the last 15 minutes. Designed for active, enthusiastic, and imaginative children. Encourages vocal development, nurtures a child's ability to think musically, and gives children the opportunity to explore sound with instruments
Kindermusik: Sing and Play (12 - 24 months)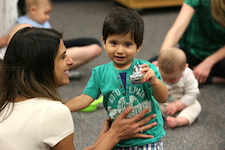 Ages: 12-24 months, with a parent/caregiver. It's a musical celebration of new movement and language skills! A mix of parent-child joint activities and child-focused activities provides parents the opportunity to participate in all the music and movement fun, and also to stand back, observe, and revel in how these children are beginning to walk, talk, sing, play, clap, tap, and dance - on their own!