The Suzuki Method is a unique method of music education based on children's acquisition of speech. Originating in Japan, the Suzuki Method is now one of the most influential and popular methods of music instruction in the world. Aspects of the method include: early-age instruction, parental involvement, ear-training, positive reinforcement, memory training, and communal learning.     
The Blair School of Music has one of the most established and well-regarded Suzuki programs in the United States. Our teachers are highly trained and in regular demand as guest-artist teachers across North America.    
Our Suzuki Program consists of two 15-week semesters that include weekly private and group lessons. Additionally, Suzuki students participate in a group concert and solo recital each semester. All students gather monthly for play-ins, large group classes focused on augmenting students' joy of music. The Blair Suzuki Program also hosts the annual Greater Nashville Suzuki Play-Down, inviting students from all over the region to join together in music during a celebratory concert. Other special events include workshops with guest artists, parent lectures, and other fun social programming.    
When students reach an advanced level, they are invited to participate in our violin performance group and cello choir. In these ensembles, students intensively prepare repertoire for performances at the Blair School of Music as well as in the surrounding communities.    
Our summer program includes a flexible summer schedule and the Nashville Suzuki Institute. The institute draws students and families from all over the region to enjoy a week of intensive study. Teachers from all over the country join us for our teacher development courses.   
The Blair School of Music offers Suzuki instruction in violin, viola, and cello, and is accepting students as young as 4 years old. For more information, or to register for our program, please contact Zachary Ebin  at 615-322-7665 or zachary.ebin@vanderbilt.edu  
Upcoming Events
Our Faculty
Zachary Ebin is the director of the Suzuki Program at the Blair School. He holds a B.A. and M.A. from Brandeis University, an M.M. from the Boston Conservatory, and a Ph.D. from York University. Before relocating to Nashville, Ebin was on the faculty of Etobicoke Suzuki Music in Toronto, where he founded and directed Arco Violini, an advanced precollege string orchestra dedicated to giving back to the community through performances at hospitals, senior residences, and charity events. Ebin led Arco Violini in more than 40 performances including two television appearances.
Spring 2023 Suzuki Programs
Suzuki Strings I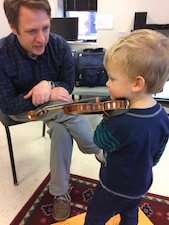 30 minute private lesson and weekly group class Contact the program director for more information
Suzuki Strings II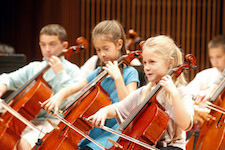 45 minute private lesson and weekly group class Contact the program director for more information
Suzuki Strings III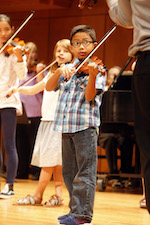 60 minute private lesson and weekly group class Contact the program director for more information